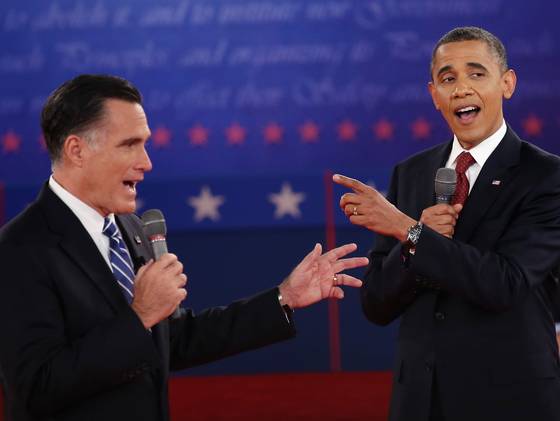 What many people perhaps do not remember about the 1984 elections is that there was actually a very brief moment when Walter Mondale had a chance to get back into the race against President Ronald Reagan.  President Reagan looked like he was beginning a descent into Alzheimer's, with poor memory and engagement in the first debate.
Rising was the concern about his age – 73 when he would have been re-elected.  But he flipped on his opponent as the age issue arose: "I want you to know also I will not make age an issue of this campaign. I am not going to exploit for political purposes my opponent's youth and inexperience."
And that was it.  There was a brief moment of doubt and Reagan went onto an historic landslide victory.
In 2004, President George W. Bush had a poor debate performance.  He saw his lead evaporate basically overnight.  He then regained his footing in the second debate and eked out a very narrow win on Election Night.
There are a lot of questions as to why a President's debate performance might be lackluster.  Some have speculated it is a matter that they are not challenged with as President.  Others suspect it was lack of taking the preparation seriously or the belief that the process was beneath them.
Regardless, there is no way to describe Barack Obama's first debate performance but as poor.  He turned what could have been the end of the campaign into a Mitt Romney's reemergence, if not lead.
Because of that, the second debate performance became critical.  From the start we saw a different President Obama.  Most commentators said if we had seen this performance in Debate 1, this race would have been over.  Now the only question is whether this performance was enough.
He spoke forcefully, he defended his record, he took Governor Romney on without getting into the mud.
One of the critical early comments, that set the tone, was flipping the economic attack by Mitt Romney and calling him out for his lack of specifics and his alleged dishonesty about his own plan.
"And Governor Romney says he's got a five-point plan? Governor Romney doesn't have a five-point plan. He has a one-point plan. And that plan is to make sure that folks at the top play by a different set of rules. That's been his philosophy in the private sector, that's been his philosophy as governor, that's been his philosophy as a presidential candidate," President Obama stated.
"You can make a lot of money and pay lower tax rates than somebody who makes a lot less. You can ship jobs overseas and get tax breaks for it. You can invest in a company, bankrupt it, lay off the workers, strip away their pensions, and you still make money," he continued.  "That's exactly the philosophy that we've seen in place for the last decade. That's what's been squeezing middle class families.
"And we have fought back for four years to get out of that mess. The last thing we need to do is to go back to the very same policies that got us there."
While some commentators marked him down for failing to get into the specifics of how his second term would be better than the first, this answer and response puts the onus of the problem back on the Bush administration and while so doing, lays out differing philosophy.
If this response was critical, the next two were devastating.
The issue of the attacks at Benghazi probably stood out for Governor Romney as an opportunity to make hay.  But Governor Romney didn't have the facts on his side that he thought he did.
It started when President Obama, responding to an audience question, stated, "The day after the attack, Governor, I stood in the Rose Garden and I told the American people and the world that we are going to find out exactly what happened. That this was an act of terror and I also said that we're going to hunt down those who committed this crime."
Governor Romney then interjected: "I think [it's] interesting the president just said something which – which is that on the day after the attack he went into the Rose Garden and said that this was an act of terror."
President Obama: "That's what I said."
Governor Romney: "You said in the Rose Garden the day after the attack, it was an act of terror.  It was not a spontaneous demonstration, is that what you're saying?"
President Obama: "Please proceed governor."
Governor Romney: "I want to make sure we get that for the record because it took the president 14 days before he called the attack in Benghazi an act of terror."
President Obama: "Get the transcript."
Moderator Candy Crowley: "It – it – it – he did in fact, sir. So let me – let me call it an act of terror…"
President Obama: "Can you say that a little louder, Candy?"
Moderator Candy Crowley: "He – he did call it an act of terror."
Governor Romney looked like he was going in for the kill, having caught the President in a lie.  Pundits and critics will long debate whether Candy Crowley should have fact-checked at that point.  Some have called it inappropriate.
But the fact is that the President was right.  President Obama in the Rose Garden day after Benghazi attack said: "No acts of terror will ever shake the resolve of this great nation, alter that character, or eclipse the light of the values that we stand for."
Some commentators suggested that Governor Romney was never the same after that exchange – he lost his aggressiveness.  He thought he had the President but badly miscalculated.
Finally, another major misstep at the end gave President Obama a chance to pounce on Governor Romney's most vulnerable point, the 47 percent.
Governor Romney thought he was inoculating himself by the being the first to bring up the 47%, but he erred in doing so, in an exchange in which President Obama would be sure to get the final word.
"I care about 100 percent of the American people. I want 100 percent of the American people to have a bright and prosperous future. I care about our kids. I understand what it takes to make a bright and prosperous future for America again. I spent my life in the private sector, not in government. I'm a guy who wants to help with the experience I have, the American people," he said.
Few of the commentators noted this, but he looked flat when he delivered this line as though it lacked conviction or meaning for him.
Regardless, it was a mistake.
President Obama hit the hanging curve out of the park.
"I believe Governor Romney is a good man. Loves his family, cares about his faith. But I also believe that when he said behind closed doors that 47 percent of the country considered themselves victims who refuse personal responsibility, think about who he was talking about," he said.
"Folks on Social Security who've worked all their lives. Veterans who've sacrificed for this country. Students who are out there trying to hopefully advance their own dreams, but also this country's dreams. Soldiers who are overseas fighting for us right now. People who are working hard every day, paying payroll tax, gas taxes, but don't make enough income," the President Continued.
"And I want to fight for them. That's what I've been doing for the last four years. Because if they succeed, I believe the country succeeds.
"When my grandfather fought in World War II and he came back and he got a G.I. Bill and that allowed him to go to college, that wasn't a handout. That was something that advanced the entire country. And I want to make sure that the next generation has those same opportunities. That's why I'm asking for your vote and that's why I'm asking for another four years."
I think the key point was made subtly here – Governor Romney said this behind closed doors when he believed only the audience in the room was watching.  It is an insight into his thoughts.
His effort to explain it away is hollow.
The polls show a modest victory for President Obama, though one had 73 percent indicating he was better than the first time – one has to wonder which debates the other 27 percent were watching.
The analysts figured that advantage would grow as the media undoubtedly will focus on the high points.  President Obama hit on critical issues such as equal pay, while Governor Romney talked about his binder of women.  And the issue of immigration also figures to be critical in a few swing states.
Global Analysis
I would like to make, quickly, two points in analysis.
The first is that the pundits and analysts believe there are relatively few persuadables at this point in the election.  I just do not buy that.  I think self-described leaners and self-described undecided are unreliable measures of voter intentions.
To illustrate this point, look at the relative volatility of the polls.  The race was essentially tied after the Republican convention.  President Obama got a modest bounce after the Democratic convention and the numbers slowly meandered back toward the mean.
He probably had a 3 to 4 point lead before the first debate.  Then the race was tied, if not a slight Romney lead.
You're going to tell me that suddenly the people who have been in the middle, shifting around based on the climate, are solid?  I don't buy that.
It looks like the race has swung between a -1 for Obama and a +6 over the last month and a half.  The question is whether President Obama hit the floor of his support right after the Republican convention and after the second debate.
But I see no indication that there has been a change in the fluidity.  For me, the concept of undecided is not that meaningful – what you really need to hit are those people in the middle that can lean either way.  I see no evidence that that number is smaller than it was.
Second, from the start, I saw this election as 2004 reversed.  President Obama, like President Bush, was seen as vulnerable.  He has been below 50 percent much of this year, just as President Bush was.  But the opposition nominated a flawed and relatively unappealing candidate.
2012 has been more compressed than 2004.  But the dynamics are similar.  President Bush emerged from a troubled period of time for Senator Kerry and his own convention, with about a four-point lead that dissipated on the first debate's poor performance.
He regained his footing, but for the last weeks of the campaign, he never pulled away.  In fact, for much of Election Day 2004, the pundits believed that Senator Kerry would win.  It was only a strong get-out-the-vote effort by the GOP and a narrow victory in Ohio that provided the decisive votes.
The disconcerting fact of the matter that will keep Democrats up all night is that on Election Day 2004, it was a toss-up and I think that's how 2012 comes down as well.
—David M. Greenwald reporting