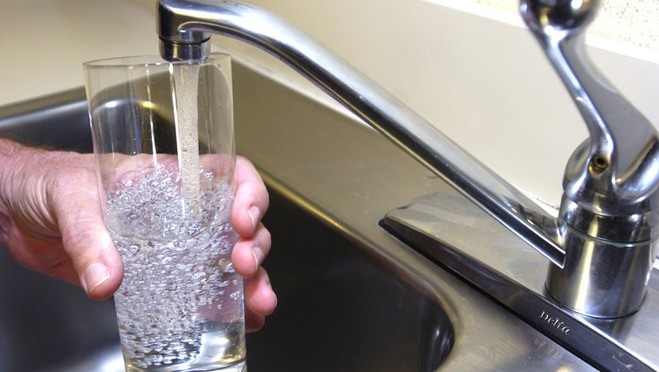 Another multi-author commentary on the water project makes the argument, "If Davis fails to implement a conjunctive use project, the city would not be acting in a fiscally responsible manner."
Why, they argue?  They write, "The city of Davis cannot sustain its present course of action. The city has been borrowing money on an existing line of credit to pay for its crumbling water infrastructure. This is because necessary water rate increases have been put on hold while decisions are being made on the best course of action."
They continue, "Wells had to be taken offline because of contamination or subsidence problems. This predicament will increase over time as existing wells continue to be taxed far beyond their intended life span. It can be extremely expensive and infeasible to treat existing wells out of compliance with regulatory standards."
In fact, one of the critical contentions by proponents of the project are that water rates will rise considerably, regardless of whether we do the surface water project or not.
"The days of cheap water are over," Elaine Roberts Musser told the Vanguard last week, and she is largely correct.  The question is exactly how much we will have to pay.
The city continues to drag its feet at disclosing this critical information.  We reported that Herb Niederberger suggested a 62% rate increase, absent the surface water project.  We have seen other figures that suggest that number is actually far too low and we may be looking at the doubling of the rates.
Matt Williams cites data provided to the WAC by Bartle Wells on 4/2/2012.  According to that data, the city's water revenues are just under $10 million per year.  On the other hand, costs – and these do not include what we will owe to the JPA – are at $13 million.
Matt Williams writes, "The result was a $3 million draw down of the Water Enterprise Fund's reserves."
That presumably means we are borrowing $3 million per year from the city's sewer fund, which the city had accumulated because, on that side of the ledger, they planned ahead and banked funding for the wastewater upgrade.
What really should gall us, however, is that this $3 million per year in deficit spending does not include deferred maintenance.  Matt Williams estimates we have to pay $37 million (which is nearly one-third of the cost of the surface water project) in capital expenses for repair and remediation of our current system.
If all of this leads you to scratch your head for a bit, there is a big question that is not being talked about here – exactly how did we get to this point?
The op-ed benignly suggests, "This is because necessary water rate increases have been put on hold while decisions are being made on the best course of action."
This is likely true in terms of the past year.  If you recall, then-Councilmember (now Mayor Pro Tem) Dan Wolk made the motion, during the infamous September 6 decision, to have a one-time 10 percent water rate increase while allowing time to explore various options and approaches.
Three months later, Dan Wolk and then-Mayor Pro Tem (now Councilmember) Rochelle Swanson suggested directing staff to bring back a one-year Prop 218 motion, based on the needs to cover current deferred maintenance and ongoing needs, rather than being based on the surface water project.
Had the council followed Mr. Wolk's recommendations at either point in time, the city would be on more solid fiscal footing.  Unfortunately, while the council rescinded the water rates, they failed to impose a rate increase that would have reduced deferred maintenance.
However, this is not the only point of error.
In May of 2010, the council at this point, still led by the council majority of Don Saylor, Ruth Asmundson and Stephen Souza, made the determination to raise water rates only 5% rather than their originally-planned 10%.
They put off the heavy lifting at that time.  They voted to approve a relatively modest 5% increase, but that number increased to a 23% increase in 2011/12, and then 20% for each of 2012/13 and 2013/14.
The projected numbers would only increase in the coming years, with it becoming clear that rates wouldn't double, they would triple. But, whatever you may think of the numbers proposed back then, they were never implemented other than the very small increase in 2010.
During May 2010, even the modest increase resulted in protest from those in the business community and those on fixed wages.
Stephen Souza and Don Saylor largely defended the proposals, based on changes to discharge requirements.
Then-Mayor Pro Tem Saylor said, "These rates are a reasonable way to capture the costs we are going to incur and experience during the next year."
He continued, "The rate changes that we have now, need to go forward now.  It's a process that's been underway for some time and in order for them to be effective in August, it is my understanding that this is the time when we need to make that adoption."
"Here are the challenges," he said, "We have costs, it's a city service, it's not free.  It's not a matter of us making choices that we want to charge people more money for some purpose.  The idea here is pretty strong, delivering water and taking wastewater away and taking garbage away costs money.  And it's costing more money and will in the future primarily because the standards changed and the water supply is lessening and becoming less quality."
Unfortunately, the council has been discussing the issue of a water project for some time.  By the time the Vanguard arrived on the scene, the talks were already a decade old.
In 2007, discussion of the water project began in earnest, as we moved toward the eventual Woodland-Davis joint water project.
It has now been six years since the Vanguard published its first article on the water project, but the council never had the foresight to raise rates (other than the 5% increase in 2010) either to fund current maintenance or to bank for the eventual need for surface water.
The result is that we have built up an increasing amount of deferred maintenance, and we are borrowing money at the rate of $3 million per year against the wastewater project.
When the Vanguard spoke with some of the employees in public works last June, they told the Vanguard that the city's water system infrastructure was badly in need of repair.
Whatever your view of the city's surface water project is, this is not fiscal prudence or sound public policy.  It represents mismanagement.
We have lost six years of time, at least, where we could have either built up the city's enterprise fund or at least kept up with deferred maintenance.
Back in 2010, Lamar Heystek, who was about to exit the council, had strong words for the proposed rate hikes at that time – which appeared to defer the heavy lifting and large rate increases to future councils.  That is exactly what has happened.
But it is worse than just a political calculation, in fact.  Not only did they defer difficult decisions, they allowed the situation and the city's wells and infrastructure to further deteriorate until we may have no choice but to replace it all.
There is a term in the world of development: demolition by neglect.  In some ways, what has happened to the city's water system is beginning to resemble exactly that.
One of the questions the Vanguard has is not just how much the no-project option will increase water rates, but how much of this system will we have to upgrade and replace, on top of the surface water project.
—David M. Greenwald reporting