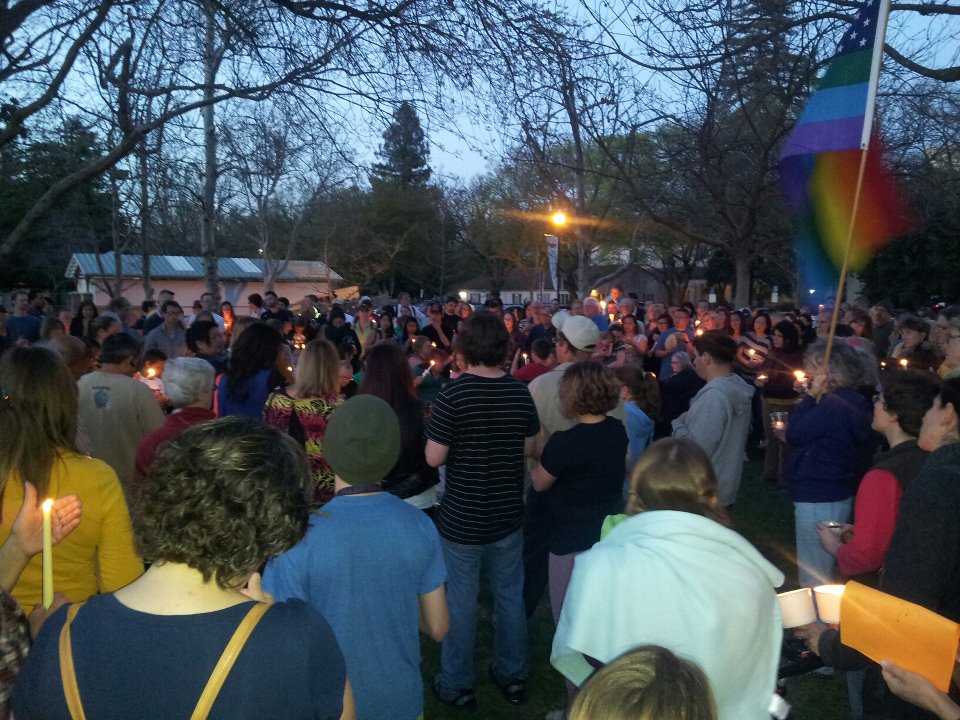 By Robb Davis
There has been much speculation about the factors that might lead someone to commit the kind of crime that was perpetrated against Mikey Partida.  While some of it may be premature it is a normal human response to try to make sense of something that is so senseless.
Certainly, much more will be learned about the event, the things that led up to it, the story of the perpetrator (whoever it turns out to be), and the likely outcome of a conviction, as the legal process moves forward.  We also know with certainty that Mr. Partida will need to go through a painful process of physical and psychological healing.  Some scars – physical and psychological – may never fully heal.  In quotes from Mr. Partida we have already learned of his fears and anxiety about moving around his hometown. Physical healing is only the first of many long steps he will have to take.
Lisa Rea, founder of Restorative Justice International, who has worked in restorative justice since 1992 believes that victims of crime do not want some vague sense of "closure" but rather they want to regain a sense of safety, security and healing.  She argues in a 2012 article[1] that for many victims the healing process would be facilitated by an opportunity to face the offender, ask him/her questions, describe the harm that was done, and seek a way for the harms done to them to be made right.  She notes: "…(T)hroughout my work the number of victims who are seeking to participate in some kind of restorative justice dialogue is increasing."
Unfortunately, as Ms. Rea also notes, our criminal justice system does not make it easy for victims who desire this kind of mediated process to obtain it.  There are many reasons for this but two seem to predominate:  First, our criminal justice system defines crime as committed against the state-not first and foremost against individuals and communities (pause for a moment and ask how the crime against Mr. Partida has negatively affected our community).  The offender, if convicted, is punished by the state and on the state's terms – the debt is owed to the state first and foremost.  This is demonstrated colloquially in phrases like "he paid (or must pay) his dues to society."
Where is the victim in all of this? Generally victims are left out of most of the process, and this is related to the second reason why victims cannot obtain access to a restorative process even if they desire it.  Ms. Rea says that many victims have expressed that "they feel used by the system, like they are just pawns in its game to convict and sentence the offender."  District attorneys, generally speaking, "control" the victim's narrative.  The victim is "theirs" and they may need the victim (and/or the victim's family) to play a certain role in order to assure that a conviction is achieved.  To say that DAs seek to control the victim's narrative does not imply wrongdoing on their part. As noted, they are part of a system that views crime as something committed against the statutes of the state.  They do what they must to find relief for the state.
But this reality should raise the question: does this system provide what victims need?  Does the current system provide an opportunity for them to find healing?  Does it enable them to have their most burning questions answered?  Questions like "What were you thinking?"  Why did you hurt me this way?"  "Do you know what all of this has meant to me?"  "Can you acknowledge the harm you have caused?"  What are you going to do to make things right to me?"
I have no way of knowing whether Mr. Partida would like to have an opportunity to ask these questions or not.  He may never want the opportunity.  Or, he may not want it in the next 6 months.  But what if he did?  What if, as part of his healing, he desired to meet the perpetrator?  Would our system allow him to do so?  The answer is probably not.
According to Ms. Rea, restorative justice "puts the crime victim in the center of the system while stressing offender accountability to restore victims and communities as much as possible after crimes are committed."  There are some key points here: victim at center, offender accountability, restoration – or making things right – as much as possible.
What is the downside to creating or evolving a system of justice that encourages offenders to take accountability?  What is the downside of giving victims an opportunity – should they so desire – to face their offenders?  What is the downside of allowing victim and offender to work out an agreement about what would make the harms right (even if the offender faces other punishments from the state)?
Will the perpetrator in this case, when all is said and done, be confronted by the fact that he committed a crime against a human being and not a "category?"  Will he be given a chance to learn of how his crime affected an entire family, place of work and community?  Will our system ever provide an opportunity to bring these things to his attention?  Or will we merely warehouse him in a prison where he will pay a vague debt to a disembodied state?  I believe we should wrestle with all the foregoing questions.
Much more needs to be said about restorative processes and their role in preventing the formation of a "school to prison" pipeline.  Some of this was discussed in a Vanguard article on February 4, 2012. Hopefully our community will have a chance to discuss these issues in more detail in the months ahead.
I want to close this reflection by apologizing to Mr. Partida and his family if this article feels like it is pressuring them to seek the kind of victim/offender conferencing suggested here.  That is not my intent and I would never advise them to seek this path unless they were convinced it would help Mr. Partida.  The intent here is to ask whether restorative processes should be in place – even for violent crimes like this one – in case the victims desire to use them.
I wish Mr. Partida and his family all the best and hope they have all felt the love and support of this community.  My thoughts also go out to the perpetrator of this crime.  Despite our anger at the heinous act he committed, he remains a human being, albeit one with deep brokenness.
Robb Davis is working with a small group of Davis residents to determine whether it might be possible to develop a "Victim Offender Conferencing Program" that would focus, initially, on providing mediated conferencing between victims and offenders of non-violent/non-sex juvenile crime in Yolo County.  Such programs are being increasingly implemented around the state and country.  If you are interested to learn more about this initiative please contact Robb at robbbike(at)me.com
---