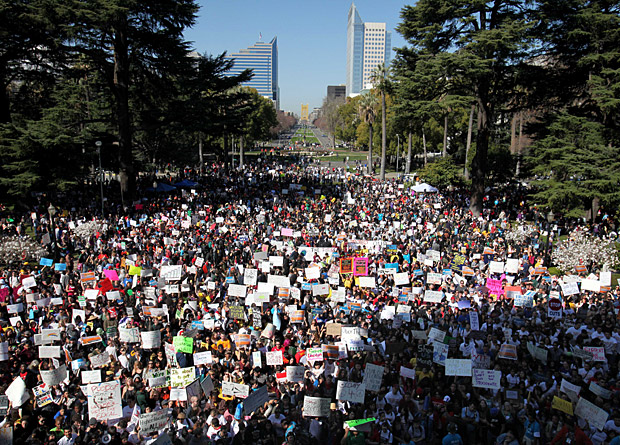 While Dozens Were Arrested for Trespassing, No Violence is Reported
While thousands of protesters and demonstrators gathered around the Capitol on Monday, a small group stayed inside of the building and achieved their goal of getting arrested.  About 68 arrests occurred when the protesters refused to exit the building at the close of business hours.
But spokespeople for law enforcement called the day a success, as there was no violence, no tear gas, no batons.
The police credited their large show of force, with police lining the building in riot gear and riding on police horses.
Protesters would point out their statement of non-violence, that the organizing groups Occupy Education and ReFund California adopted: "The Occupy the Capitol action will be a mass nonviolent action. Those involved in its organization will not engage in acts of property damage either inside or outside the capitol and do not condone such acts. Decisions about tactics will be made democratically."
The mass media made this about the show of force and the arrests – which were intentionally achieved by the protesters, who stayed in the building a full hour and a half past closing, and ignored numerous warnings.
"We gave them more time than needed," said CHP Capt. Andy Menard to the media later, adding, "We asked them to leave several times. We gave them every opportunity."
The day was about the message, though some in the media apparently did not understand the message.
Charlie Eaton, representing ReFund California, said yesterday morning at a press briefing, "Today is a really exciting next step after the events of this fall."  The group made headlines last fall when they sponsored a week of protests, arguing that it was time for the one percent to pay to re-fund public education.
"It's no secret for about the last ten years in California," he added, "it's students and workers who have paid."  He cited 300% tuition hikes and massive cuts that have cost jobs for workers.
While the workers and students have suffered, Mr. Eaton argued, "At the same time, corporations have not been paying – the one percent has not been paying for education.  They've had tax cuts."
Van Jones, President and Co-Founder of Rebuild the Dream, "I am here for one reason, I am very proud of this young generation and very ashamed of my own."
He said his generation is throwing the current generation under the bus.
"We are pulling the ladder up behind us and we have got to start putting the ladder back down for these young people," he said.  "We have young who are graduating every spring off a cliff into no jobs in the worst economy since the Great Depression with unbelievable amounts of student debt.  It's not fair to them."
"I am so proud that these young people have begun to try to change the conversation and bring us back to what made California great," Mr. Jones added.  "California is great because we invested heavily in education and infrastructure.  All the things that have made this state such an easy place to do well and to get wealthy."
Students speaking at the event were frustrated with the cuts, the tuition hikes and the lack of leadership from the legislature.
"They say cut back, we say fight back!" the protesters chanted, waving a variety of signs and saying "fund education, not war" and "cuts in education never heal."
While Assembly Speaker John Perez and Senate President Pro Tem Darrell Steinberg voiced support for the students' cause, the student protesters chanted "show us" and "you'll hear us out or we'll vote you out."
"You have the right to be mad," Senate Leader Darrell Steinberg told the crowd. "Too many people are getting big tax breaks while the cost of higher education for you is going up."
"We've cut billions of dollars and I've hated every minute of it," he added.
Speaker Perez said, "California made a promise, that every single person who worked hard in high school would have the opportunity to go to and make the most of their potential at a UC, CSU or Community College."
"That promise is not being kept when community colleges across California have drastic cutbacks, layoffs and fee hikes that force students out of the system," he said.  "And that promise is not being kept when student fees have risen more than 100 percent at the UC and CSU."
He noted that the cost of education has doubled the debt for students and the bills for parents.
He added, "I am one of the hundreds of thousands of Californians who is deeply grateful that the Cal Grant ensured I could go to school.  But for thousands of students across California, the debt is too much to take on, and the bill is too high to pay. And so they chose not to go to school at all."
"That should never happen in California," he said.
And while the words may have been powerful, many of the students and protesters saw it as lipservice.
Senator Leland Yee, a fierce critic of the university systems and strong supporter of students and workers, issued a statement on Monday morning.
"I commend the students, faculty, and workers who are making their voices heard today at the State Capitol. I am proud to support them and that is why I have always voted against cuts to public education, fought executive compensation hikes and taken on the corporate greed and arrogance of the UC and CSU administrations," he said.
He added, "Through SB 967 we can stop the exorbitant executive pay hikes, unfair tuition increases and severe budget cuts, and through SB 1515 we can give students, faculty, and workers a real voice on the Board of Trustees."
"Together, we will restore much-needed funding and accountability to our public education systems," the Senator said.
Governor Brown issued a statement, "The students today are reflecting the frustrations of millions of Californians who have seen their public schools and universities eroded year after year. That's why it's imperative that we get more tax revenue this November."
But in many ways, he was at odds with the protesters.  He is supporting his own tax policy, but the protesters are supporting the millionaire's tax, which they argue would raise roughly $6 billion for education and other programs.
"It is time for wealthy people in California who have been drinking from the well to start replenishing that well.  You can't just take take, take from California and not give back," Van Jones said.  He argued that the millionaire's tax would put six billion dollars back into education.
As Charlie Eaton said, "We're asking the governor to drop the talks with our universities about a 24 percent tuition hike over four years and to instead support the millionaire's tax and support a broader budget to make the one percent pay to refund jobs, education, workers, social services."
Lt. Governor Gavin Newsom announced on Facebook that he was joining thousands of students in Sacramento to rally in support of investments in high education.  He said: "We're sending a strong message: Enough is enough."
Later he posted, "It's time for California to wake up and start investing in Higher Education. Enough is enough."
—David M. Greenwald reporting