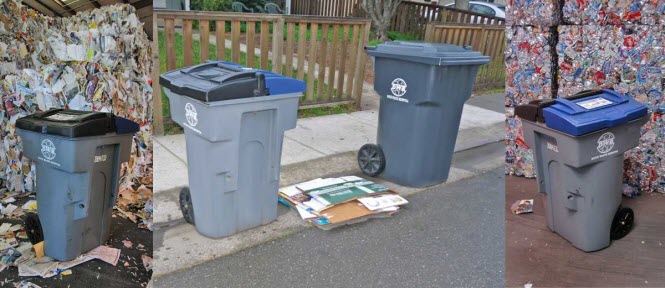 On Tuesday night, the council voted 4-1 to support the idea of variable rates for waste containers, with Councilmember Brett Lee dissenting.  Councilmember Lee primarily objected because of the six-dollar differential between the 65 gallon and 95 gallon containers, as opposed to a three-dollar differential on the difference between 65 gallon and 35 gallon containers.
He argued that the 20 percent rate increase seems excessive.  However, after the council pondered a flatter rate structure, the concerns from city staff about revenue needs as well as the limitations of the Prop 218 process that is already underway ultimately swayed the rest of council to support the staff recommendation.
The question is whether charging variable rates on different sized waste containers will ultimately reduce the amount of waste that the city uses.
Leaving that question aside, let us look at just the issue of variable rates.  It is not clear why the city went to 95 gallon containers as standard size containers.  For my family of five, if we use half that capacity in a typical week, I would be surprised and we still have a baby in diapers.  For my family, a 65 gallon container is more than enough and, frankly, we could go to a 35 gallon container if we were more careful to pull out every single item that could be recycled.
I will get to that point shortly.
The idea that we should have flat rates goes against most acceptable economic rationales.  There are people who argue that this discriminates against larger families.  Well, duh.  When I go to the shopping store if I need two gallons of milk to feed my family of five and you need one for your family of three, I have to pay more for my extra milk than you, because we consume more.
So why should waste be any different?  It is more work to handle a larger waste container and I am using more capacity at the landfill.
The rationale for variable rates, therefore, seems fairly straightforward.  Had the city couched the program in those terms, they would have had few, if any, objections.  The bigger problem philosophically is the idea of social engineering, as they call it, or the idea that by giving incentives for a smaller container, people will make less waste rather than cram their existing waste into a smaller can.
The overfilling of waste containers is a simple problem to solve: the technicians could simply make note of overfilled waste containers and, if it becomes a chronic condition, the customer would have to upgrade.
One gentleman on Tuesday came forward and said that he typically fills his can a quarter of the way and if he went to a smaller container that he would consume about the same.  His argument was that the can size would not make a bit of difference for him.
Perhaps he's right, but the question is whether he is a typical consumer.  As I noted, we generally take most of the recyclable material and put it into the recycling bin.  However, we often miss things during the course of a busy week, and food-contaminated recycling we put in the garbage.
If all the city did was implement the variable rates for waste containers, I agree with the critics, it would not reduce waste.
But the city is not implementing their zero waste plan in isolation.
The plan is part of a broader Integrated Waste Management Plan which was "compiled by staff with collaborative input from the Davis Natural Resources Commission (NRC), industry experts, and the community at large."  The goal is to reduce waste disposal to 1.9 pounds per person per day by the year of 2020 and "as close to zero pounds per person per day as possibly by 2025."
"The City's waste reduction targets are established in resolution 11-185. Expanding and improving the following programs are recommended to divert approximately 8,583 tons of waste per year from the landfill using the following primary criteria: reducing landfill disposal, converting landfill waste to the recycling/composting stream, and cost-effectiveness as defined by potential rate impacts."
There are four programs that the city is looking at: organics program which would collect yard materials and food scraps for composting; multifamily recycling program which would increase outreach to maximize recycling in apartments; commercial recycling program which would increase waste audits and outreach to business; and construction and demolition program which increases waste reduction and recycling for construction activities.
The Integrated Waste Management Plan has an aggressive schedule of actions to be implemented in the next two years.  The first item implemented was the single-use carryout bag ordinance.
The city's policy aims "to encourage customers (to) downsize cart sizes to focus on recycling, composting and reducing waste generation."
Therefore, the change is meant to work in concert with several of the other proposals.  For example, "If City-wide food scrap collection is in place, most waste items would be acceptable for recycling or composting, reducing the amount of trash going into a garbage cart significantly."
The city believes that through "social engineering," by providing people with a smaller sized garbage cart, they will generate less waste, and "this idea of 'right sizing' a garbage cart is based on today's world of extensive recycling programs, composting options and reducing waste."
There are people who are already recycling and composting, but that's not everyone.  Can all of these programs work together to reduce waste?  I certainly hope so.  It is certainly a start.
However, if you remain unconvinced, just remember that, when you fill up at the gas station, a bigger car takes more gas and therefore costs more to fill up than a smaller car.  At the end of the day, variable rates makes sense on that economic basis alone.
—David M. Greenwald reporting