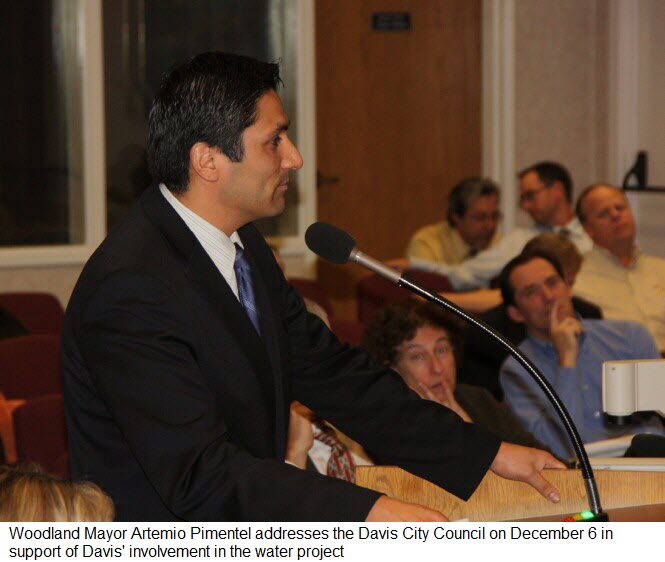 We spent last week talking about the mailer attack on Sue Greenwald by a third party, and this past week talking about a mailer attack on Judge Dan Maguire by his electoral opponent, but one of the nastiest fights is one between incumbent Duane Chamberlain and Woodland Mayor Artemio Pimentel for the Fifth Supervisorial District.
Most of our reading audience will not be able to vote in this race, which is why we have not covered it extensively as we have the judgeship race or the Davis City Council race.
However, it has been every bit as ugly, if not worse.  After all, campaign workers came to blows following an April 26 campaign forum in which a volunteer for the incumbent supervisor and the campaign manager for the mayor's campaign erupted over the allegations of removing lawn signs.
Woodland Police cited alleged battery and petty theft, but the DA's office two weeks ago made the determination not to file charges.
"We have concluded our review of the reports surrounding the events at, and before, last week's community candidate forum and have determined that the incidents do not warrant criminal prosecution at the present time," said Michael J. Cabral, assistant chief deputy district attorney, to the Daily Democrat.
He added, "However, the theft of campaign materials is a serious issue that can have a significant impact on the integrity and reliability of our elections. Any systematic theft of campaign materials will be prosecuted to the fullest extent permitted by law."
Then we have the scurrilous attacks by a Woodland blogger who attempted to seize on the Davis City Council controversy by attempting to spuriously tie Mr. Pimentel to the plumbers and pipefitters unions.
Dino Gay wrote: "Connect the dots to Lois Wolk who 'continues to endorse Art Pimentel for county supervisor.' Local 447 contributed $5,000 to the Pimentel campaign, the highest contributor who attained Pimentel's 'Farmers Level.' The union will undoubtedly benefit from the City of Woodland's surface water project… a project which has met opposition from Greenwald and the City of Davis."
That's pretty tortured logic in trying to attack Mr. Pimentel because he received $5000 allegedly from the Plumbers and Pipefitters Local 447.
Ironically, many of the attacks have focused on developments by Paul Petrovich, and yet Mr. Petrovich is a listed endorser of the Duane Chamberlain campaign.
Both candidates have assets and liabilities.  Mr. Chamberlain has been an unwavering protector of rural interests and has opposed development of farmland.  That has put him into being an ally with many on the left who seek to limit development.
However, the county is in trouble and the bigger issues may be social services and law enforcement – particularly realignment issues.  Mr. Chamberlain is unapologetic at supporting jail expansion and opposing more research-based efforts at reform.  He is also an unabashed supporter of Clinton Parish.
For his part, Mr. Pimentel told the Vanguard that he supports the current general plan including its provision with no county-based growth near Davis.
The Daily Democrat, in an excellent op-ed on Friday, distilled the race in giving their endorsement to Mr. Pimentel.
They wrote: "Being a voice for farmers on the Yolo County Board of Supervisors is all well and good, and in the race for the 5th District post on June 5, few would dispute that incumbent Duane Chamberlain has been a strong voice for farmers.  But being a staunch supporter on any issue amounts to nothing for an elected official if the votes aren't there, and Chamberlain has too often been the lone-person out on countywide issues."
They add: "In contrast, Woodland Mayor Art Pimentel has shown during his eight years on the City Council he is willing to listen, willing to compromise, and willing to find effective solutions to community problems."
"It may distress Yolo's farmers in the 5th District, but we have to be pragmatic about the fact the district has changed with the addition of a significant portion of Woodland as a result of redistricting. This means Woodland's voice must also be heard in addition to those living in the county. Pimentel is in the best position to hear all voices, and work to balance the diverse needs of the county's largest district."
"Pimentel, 33, directs a program at Woodland Community College that helps poor and first-generation students. And while we are adverse to so-called 'professional' politicians, we must acknowledge that Pimentel has been involved in politics since serving as student president of Sacramento State more than a decade ago, which gives him experience at finding compromise and working toward specific goals," they add.
They write that the political differences between the two men are minimal.  We are not that sure.  They write: "Both agree that growth should occur in the county's four cities and not the rural areas, both acknowledge the need for more jobs.  Pimentel is stronger on the need for Woodland to have a stable source of water for the future. Chamberlain is more focused on law enforcement."
They argue that the distinction between the two is approach, and that Mr. Chamberlain is more contentious, particularly "in his desire to stand fast on ag issues, which is a fine thing if the votes are there. However, being unwilling to find compromise means – in the end – being ineffective at representing agriculture and farmers."
The Daily Democrat writes: "The Yolo County Farm Bureau this week endorsed Chamberlain for re-election citing his 'fiscal conservatism and responsibility' and his opposition of unspecified 'budgetary actions' that 'the board approved by votes of 4-1 or 3-2.' We don't know what those actions were, but they were approved nonetheless, so Chamberlain's standing firm didn't do any good."
They add, "We don't want a supervisor who supports only rural residents (be they farmers or laborers). We don't want a supervisor who supports only city residents (be they merchants or office workers). We want a supervisor who supports the best interests of the community at large.  That would be a more productive approach, and that's why we're supporting Pimentel."
From our standpoint, here is a critical difference: "Both are concerned about the state's prison realignment that is sending lower-level inmates back to counties. Chamberlain puts a priority on law enforcement, while Pimentel places more emphasis on job training and education programs."
We sat in the chambers during the long discussion on how to proceed on AB 109.  After some very thoughtful commentary by his colleagues, Mr. Chamberlain simply said, "I support law enforcement."
What did that mean?  It means he was going to vote how law enforcement recommended.
We have nothing against law enforcement, but there were some nuances to that discussion and ideas put forward in a thoughtful manner by several of his colleagues, but Mr. Chamberlain was not interested in discussing or considering them.
As I told someone this week, in the next four years, we need to worry far more about what happens with county-level social services and AB 109, than we do about growth on Davis' periphery that everyone has said is not going to happen in the near future anyway.
—David M. Greenwald reporting