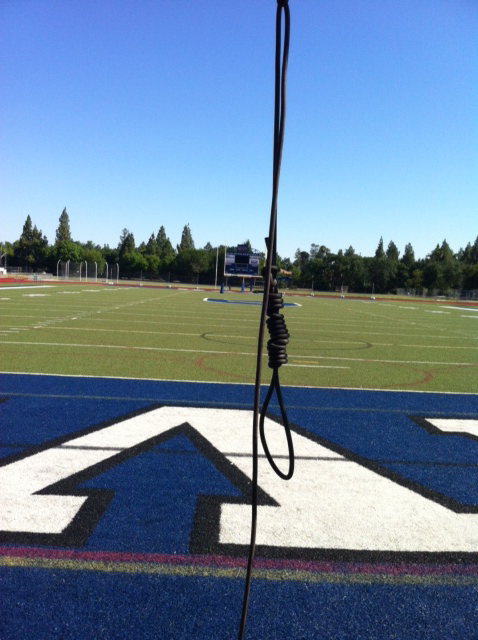 Details are sketchy at the moment and Superintendent Winfred Roberson and Mayor Joe Krovoza are reportedly expected to issue a joint statement, perhaps as soon as today, after officials found a noose hanging from the uprights of the south goal post at the Davis High Stadium during the Juneteenth celebration this past weekend.
The investigation is still underway.  Officials are taking this matter very seriously, believing it very important that all people in this community feel safe.
Officials have stressed that they are not treating this as a prank.  The incident has been reported to the Davis Police Department for investigation.
At this time officials do not know if children or adults are responsible for displaying what they are calling a "symbol of violence and hate."
Lt. Paul Doroshov of the Davis Police Department told the Vanguard late on Monday evening that he will be assigning a detective to look into this matter further.
Right now he said there was nothing other than the noose itself to suggest any type of hate message behind it, but obviously given sensitivities and the history of such a symbol they will be examining that question far more closely in the coming days.
The officials the Vanguard has spoken to have withheld comment until some sort of statement is made by the city and school district.
However, each of them stressed the importance of a critical balance between vigilance on the one hand and trying not to overreact on the other.
While the officials made it clear this incident is being treated a criminal matter and a potential hate incident, right now we simply do not know whether this was in fact an act of hate, or some kids thinking they are being funny by riling up the community.
—David M. Greenwald reporting